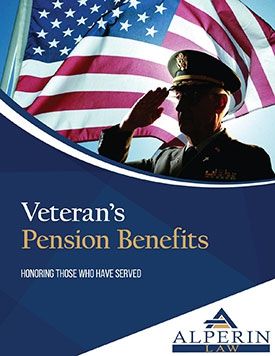 The Veterans Administration estimates that millions of wartime veterans and their spouses may be eligible for special monthly pension benefits, even if they were not wounded or disabled while serving in the armed forces. If you are a veteran or dependent and are now facing the burden of long term care, you may qualify for VA Pension Benefits. This brochure can help you determine your eligibility and how to receive the benefits you deserve.
Do You Qualify? It's Worth Your Time to Find Out
The Veterans Pension Benefits program is severely underutilized because it's not well-publicized and the eligibility requirements are a bit confusing. However, our helpful brochure spells out the requirements and tells you how our Veterans Affairs accredited attorney may be able to help you qualify for these important benefits. We encourage all veterans to fill out the form on this page to request our free brochure for more details, but, in general, these benefits require that you:
Served in the U.S. armed forces during specific wartime periods.
Have a limited income, as determined by the eligibility requirements.
For some benefits, you must be in need of regular assistance with certain activities of daily living.
For many veterans, the requirement that is the most difficult to meet is the income requirement. However, our veterans benefit planning attorneys may be able to help you restructure your income so that you can qualify for the benefits you need and deserve.
Read Our Brochure to Learn More
Veterans and their dependents are eligible for pension benefits, but may need help qualifying for them. If you or a loved one is a wartime veteran who is worried about affording the quality of care you need as you get older, take the first step by requesting our free brochure. In it, you will learn about the requirements and get instructions about the steps you should take now to protect your future. The attorneys at Alperin Law are grateful for your service to our country and want to help make sure you are well taken care of.