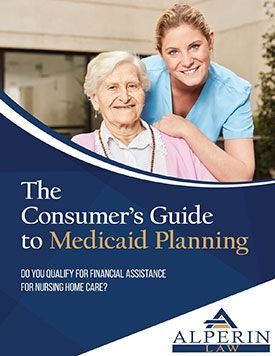 Our free Medicaid planning guide is designed to help provide you with information and answers to some of the questions you will encounter as you move a loved one into a nursing home, including whether or not you qualify for financial assistance to help cover the cost of care. This guide has been a valuable resource for many of our clients and was produced by our team of attorneys and nursing home professionals. When you fill out the form on this page, you will receive an email with a download this valuable guide—all with no obligation to us.
We Will Put Your Mind at Ease
You know what Medicare is—and are very familiar with what it does and does not cover. You are also probably familiar with Medicaid, but never thought it was something that would apply to you. However, you may be eligible for Medicaid benefits to help you pay for the high cost of a nursing home while protecting your own assets for your family. How is this possible? Request this free helpful guide and find out! We will answer important questions, such as the following:
How will I ever afford a nursing home?
What does Medicare cover?
Why should I seek legal advice about qualifying for Medicaid?
What assets must I spend down in order to qualify for assistance?
How do things change if I am married?
Will I lose my home?
Why do I need an estate planning attorney?
If you don't already know the answers to these questions—and even if you think you do—you are the perfect candidate to receive our free Medicaid planning guide. Not only do we answer these questions, but we also provide several case studies to give you real-life examples of how proper planning can help you and your family.
Estate Planning Attorney in Hampton Roads
From our Virginia Beach or Norfolk offices, we can help you navigate through Medicaid planning. Get started with this free book and then call to schedule an appointment at your convenience. Let us put our knowledge to work for you.