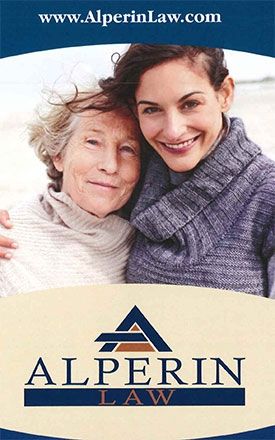 If you work with seniors in the community, you may be wondering how you can help them beyond the services you provide. Professionals who work with the elderly and their families are often the first to notice when things are getting hard for them, but don't know who to refer them to for the various kinds of help they need. Alperin Law is an estate planning law firm committed to helping elders through the challenges of long-term care, disability, and financial planning. When you refer your clients or patients to us, you can be sure we will protect their legal interests as we take care of their physical needs. Learn more about our services by requesting our Life Care Planning brochure.
Our Life Care Planning Services Provide Much-Needed Support
At Alperin Law, we specialize in the legal needs of the elderly and have developed a program of support we call Life Care Planning. Our free brochure provides more details on the following services:
Care coordination. Our on-staff care coordinator locates and arranges community services and care support for elders living in their own homes or with family members.
Planning for the future. We assist with legal, financial, healthcare, housing, and long-term care options as our clients age.
Constant contact. Our care coordinator checks in with our elderly clients regularly to monitor their situation and resolve problems quickly.
There are legal issues associated with almost every aspect of an elder's care plan—from Medicaid planning to powers of attorney to concerns about abuse and neglect. Why not rely on a law firm to coordinate these issues?
Have Our Brochures on Hand
If you have elderly people in your life, whether they are clients and patients or family members, you can help them find a comprehensive solution to their care planning needs with a referral to Alperin Law. Fill out the form on this page to receive copies of our free Life Care Planning brochure. With offices throughout Hampton Roads, we are conveniently located for residents of Williamsburg, Hampton, Virginia Beach, Chesapeake, Suffolk, and more.