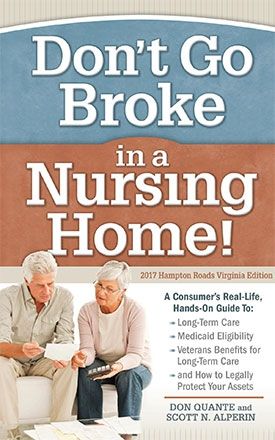 Looking for answers about paying for long-term care without going broke? If so, this book is for you. Whether you are concerned about an aging parent or want to plan ahead for your own protection, our free guide covers all the bases. Written by Scott Alperin and financial advisor Don Quante, this is a valuable resource for anyone worried about protecting hard-earned assets while getting the best possible care as you or a loved one ages.
What You'll Get in This Free Book
Don't Go Broke in a Nursing Home tells you everything you need to know about taking care of an aging loved one and gives you a variety of options for protecting their assets from the high cost of a nursing home. You may not be aware of all of the legal and financial strategies that are available to your loved one, but you will be after you read this book. The book is divided into the following five sections:
The Long-Term Care Crisis. This section examines the cost of nursing homes and the various options for long-term care that are available.
Common (Partial) Solutions to the Long-Term Care Crisis. We take a look at the challenges involved in seniors staying in their own homes and help you understand what insurance, Medicare, and Medicaid cover and don't cover.
Comprehensive Long-Term Care Solutions Using Private Pay Strategies. Are long-term care insurance, life insurance, pensions, and IRAs good ways to pay for long-term care? We tell you in this section.
Long-Term Care Solutions Using Government Benefits/Legal Strategies. Find out what legal documents you should have prepared and how you may qualify for Medicaid and Veterans benefits to help pay for care.
Finding Answers. We explain how a trusted advisor can help you navigate these difficult waters.
You have nothing to lose and everything to gain by requesting your free copy of this invaluable guide to long-term care. Simply fill out the form on this page, and we will mail a copy to you right away. If you have any questions after you have received our book, do not hesitate to call us.
Fill Out the Form Below for your Free Copy!