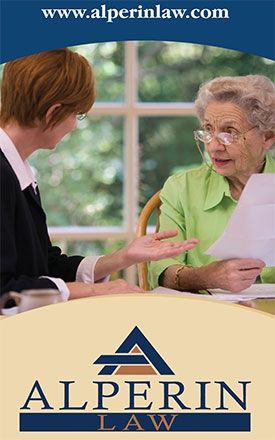 You want to protect the special people in your life from financial hardship and poor medical care, but you don't know where to begin. If you are caring for an aging loved one or have a dependent with special needs, you can learn about the options that may be open to them by requesting our free brochure, Elder Law and Special Needs Law. The attorneys at Alperin Law appreciate the complex financial and social decisions that senior and special needs clients face. Read this helpful information to find out how we can help you navigate this difficult process.
What to Consider When Caring for an Aging Parent or Special Needs Child
You may feel like you have enough to worry about if you are caring for a parent or a special needs child, and we do not want to add to your burden. However, by consulting with an attorney who practices elder law and special needs planning, you may be able to save your loved one—and yourself—from an even bigger burden in the future. When you get your copy of our brochure, you'll learn about the legal services we can provide, including the following:
Preservation and transfer of assets to avoid spousal impoverishment when one spouse enters a nursing home
Medicaid eligibility and related issues
Social Security
Supplemental and long-term health insurance issues
Tax planning
Disability planning, including use of Durable Powers of Attorney, Living Trusts, and Living Wills
Conservatorships and guardianships
Probate and administration of estates
Administration and management of trusts
Nursing home issues, including questions of patients' rights and nursing home quality
Elder abuse and fraud recovery cases
Health law including Powers of Attorney and Medical Directives
Mental health law
You have nothing to lose and everything to gain by learning as much as you can about your loved one's options.
Fill Out Our Form to Get Your Brochure Today
Get the information you need today to protect your loved ones tomorrow. Requesting our brochure is simple, and you are under no obligation to us if you fill out our form. Being proactive now can save you and your loved ones stress and heartache in the future.